Mr. Jin, Director of the Employment Department of Yangtze University, and his four colleagues came to our company to discuss matters related to school-enterprise cooperation on November 29, 2018.Assistant General Manager of our company Dai Hongwei, Sales Department Minister Chen Xiaoyang, Technical Department Minister Tian Xuehui, and Human Resources Minister Li Gang attended the meeting.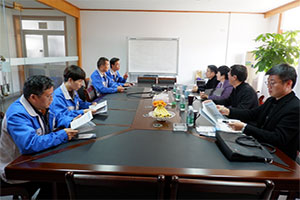 During the meeting, Minister Chen introduced the general situation of the company and the future development prospects to the leaders of Yangtze University through the PPT presentation. She said that Dongya has accumulated a high-quality base of both domestic and international customers. In particular, the high-voltage contactors that are compatible with the charging piles of new energy vehicles are promising, and its future development is limitless. Minister Li also made deep discussions on the introduction of university students' talents in the next few years.
Last, Mr. Jin expressed the hope that the two sides can further strengthen exchanges and cooperation to build a bridge of friendship for the future talent transfer in ZHEJIANG DONGYA ELECTRONIC.